Your hair is one of the firsts things people notice about you. A healthy and good looking hair contributes in no little measure to give you the perfect look. If you care for your hair as much as we hope you do, you will always be on the lookout for products that can make the hair healthier and better looking.
Recently, there has been renewed interest in natural oils and their many benefits to the human hair. Argan oil is one of such oils that are believed to offer so much to the hair. The oil, which is extracted from the kernels of the Moroccan argan tree does amazing things for your hair's health. 
What Do You Use Argan Oil For?
There are several ways of using hair products and it is understandable that you may be wondering what argan oil is used for. The truth is that there are several ways of using natural oil just as there are several benefits it can give you.
Argan oil can be used as a moisturizer, conditioner, and softener for both hair and skin. For your hair, you can use argan oil in a number of ways. We will discuss these various ways briefly:
As a Shampoo
Using argan oil as hair shampoo is one of the best ways to get the benefits. For individuals that want natural healthy hair, it is always advisable to ditch some chemical hair-care products and use natural ones. Argan oil is always an important ingredient in natural shampoos. The oil is known for its ability to restore softness, strength, and shine to the hair, which are good attributes for keeping the hair healthy.
A Leave-In Conditioner
Argan oil is also great as a leave-in conditioner. This is also due to its ability to make hair soft and sleek and also improve shine. Using it as a leave-in conditioner will prolong and intensify its beneficial effects on the hair and leave your hair in a highly improved shape.
Considering the fact that so many hair conditioners in the market are greasy and may have a negative effect on your hair, there is no need to risk having stringy and clumpy hair when you can get argan oil and use it as a conditioner. It does not matter how much of it you use, argan oil is unlikely to leave a greasy residue in your hair but will rather make the hair easier to style. It can be used in its raw form; all you need to do is to rub the oil thoroughly between your palms and comb through your hair with your fingers. You should also make sure that the oil gets to your scalp to promote scalp health.
As A Styling Agent
Argan oil can also be helpful as a styling agent. It is most helpful when you are in a hurry. As has been stated earlier, it softens the hair and strengthens it at the same time. You can easily tame frizzy hair into submission with argan oil. Even when you are not in a hurry, you can use argan oil as your number one styling agent.
There are several advantages of using argan oil ahead of the popular styling agents. As you probably know, most of the styling agents in the market contain chemicals that can harm your hair in the long run. Argan oil is a natural solution with lots of compounds that can nourish your hair instead of causing damage. This means that even as it helps you to style your hair, it can also treat any damages and prevent your hair from further damage.
Using the oil as a styling agent is also very simple. Just rub a little amount between your palms and comb through dry hair to add shine and make it more manageable.
Can I Use Argan Oil As Hair Mask?
Hair masks are the perfect option when you want to maintain healthy natural hair. Using masks on a regular basis has lots of benefits it can offer to your hair. It is possible that you are wondering at this point if argan oil can also be used as a hair mask. This is actually the case: you can use argan oil as a hair mask.
It is true that you can get hair masks in the market that do not cost so much but the problem is that some of the products may contain some chemicals that may harm your hair on the long run. Using natural oils as hair masks have been found to yield so many amazing results and what better oil to use than argan oil.
What Is Argan Oil Hair Mask?
There are different ways to view argan oil hair mask. There are some already made natural hair masks in the market that contain argan oil and can do a lot to improve your hair but there is argan oil DIY option that will also be very effective.
It is quite easy to make your oil hair mask using argan oil and some other items in your home. It is really easy to do this yourself once you have the right items and we will quickly provide a formula for DIY argan oil hair mask here.
Ingredients:
1 tablespoon of 100% pure argan oil
1 tablespoon of raw organic honey
2 tablespoon of olive oil or coconut
Few drops of essential oil like lavender or anyone of your choice (optional)
Procedure:
All you need is to mix all the ingredients thoroughly. If it is difficult to mix the honey or coconut oil, you may need to warm the mixture briefly in a saucepan. Make sure that the flame is very low to avoid damaging some of the nutrients and reducing the beneficial effects of the mask.
Application of the hair mask is as simple as making it. You can just rub into your hair directly but it is always better when you divide the hair into sections and apply the mask section by section. Ensure that you massage the mask into your scalp to promote healthy hair growth. You should also focus on your ends so that the DIY hair mask can treat damaged, split-ends. You can also comb through the entire hair after applying to each of the sections for even distribution. You should also tie your hair in a bun and cover it up with a shower cap to keep the mask warm and encourage absorption of the nutrients and moisture. You should leave the mask for about 15 – 45 minutes and then shampoo. You can style your hair as you wish afterward.
Can You Leave Argan Oil In Your Hair Overnight?
While the benefits of DIY argan oil hair masks are well established, a common question is whether it is safe to leave the hair mask overnight. A natural hair mask made from a beneficial oil like argan oil does not cause any damage at all when left overnight.
Rather, there are strong indications that using argan oil as an overnight hair mask will actually increase the benefits you will get from it. There is no reason to be afraid of using it as a leave-in hair mask overnight, especially if there is a special occasion you need to attend the next day. It will be a great way to make your hair smooth, sleeker and voluminous for that look that will turn heads.
Pure Argan Oil Vs Products with Argan Oil
It is important to state the different forms you can obtain argan oil at this point. You can either get argan oil in its pure form or as an active ingredient in some natural hair products in the market. There are some shampoos, hair conditioners and styling agents that contain argan oil. The oil is effective both in its natural form and in these hair products. There are also some hair masks that contain argan oil. As has been demonstrated here, however, you can make your own hair mask from pure argan oil.
What Are The Specific Benefits Of Argan Oil?
We have generally talked about how wonderful argan oil is and how it can help to improve your hair. It is likely that you are asking what the specific benefits of argan oil are. We will try as much as possible to summarize the specific benefits here: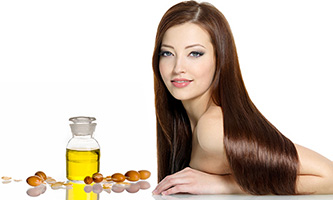 Help With Dandruff and Dry Scalp
Dandruff is one of the commonest hair problems. Most often, it is accompanied by the dry scalp and both can cause you embarrassment. If you suffer from any of the two problems (or both) argan oil can be the perfect thing to turn to. It contains enough vitamin E, antioxidants and fatty acids that collectively help to prevent dryness and also aid in treating dandruff and damaged hair.
Improve Brittle Hair
Brittle hair is another problem that is suffered by several individuals, especially those that live in colder climates. This problem will always prevent your hair from looking as wonderful as you would like it to look. Argan oil can help to take care of this problem easily. When you use it in a DIY hair mask, it will help to improve your hair. 
Help To Tame Wild Hair
If you have a wild hair that is hard to tame, you will also find argan oil very helpful in arresting the situation. Ideally, deep conditioning can help to tame wild hair but you can use argan oil as a leave-in conditioner. A little oil can do the trick and make your wild hair tame and manageable.
Protect the Hair from Heat
There are several individuals that cannot do without such hair tools as a blow dryer or flat iron. It is a well-established fact that heat is never good for hair. It damages the hair and, in extreme cases when certain products are used on the hair before these hot tools, burning can occur. Argan oil, on the other hand, has been found to protect hair from the harmful effect of heat.
Make Your Hair Shine and Glow
The use of argan oil will also give your hair a natural shine and glow that will stand out in a beautiful way. It will yield this effect no matter how you use it. Besides using it as a conditioner or leave-in hair mask, you can just rub the natural oil into your hair for the desired shine.
Protect You When You Swim
You may not know it but whenever you swim, you risk damaging your hair. Most swimming pools contain chemicals that may damage your hair and it is important that you take some preventive measures. Applying argan oil generously into your hair before going into the swimming pool will help greatly.
Prevent Hair Loss and Improve Hair Growth
Hair loss is one of the most terrible things that can happen to any woman. Argan oil can help to prevent this. Even if you are already losing your hair as a result of hair damage, argan oil can help to correct this anomaly and also boost hair growth.
Just as there are different ways of using argan oil, there are different ways it will be beneficial to your hair. We have discussed how to use oil for the best result and its specific benefits. We hope that this article has answered most of the questions you have about this natural oil and how it can help you maintain healthy hair.